Welcome to Virginia Assessors! Virginia Assessors is your doorway to all Virginia County websites for on-line parcel & GIS Data. Search parcel data, tax digest & GIS maps by Owners Name, Location Address, Parcel Number, Legal Description, or Account Number. You may also search by Map, Sales List or perform complicated Sales Searches to research data for sales comparables. Most websites also include information on the appraisal & assessment process, downloadable tax related forms, tax exemptions, tax appeals, etc. You may also find local county information such as contact information for the Chief Appraiser, the Board of Assessors, Board of Commissioners, County Manager, County Administrator, etc.

A | B | C | D | E | F | G | H | I | J | L | M | N | O | P | R | S | T | W | Y

Virginia County Tax Assessor websites
Counties beginning with P:


Page
Page County Tax Assessor
Charles L. Campbell
540-43-3840
(540) 783-1263


Patrick
Patrick County Tax Assessor
Janet Rorrer
276-694-6094
276-694-2377
PO Box 466
Stewart, VA 24171


Pittsylvania
Pittsylvania County Tax Assessor
Samuel W Swanson
434-432-7740
434-432-7957


Powhatan
Powhatan County Tax Assessor
Jamie Timberlake
804-598-1532
3834 Old Buckingham Rd
Powhatan, VA 23139


Prince Edward
Prince Edward County Tax Assessor
Beverly Booth
434-392-3231
434-392-7696
124 N. Main Street
Farmville, VA 23901


Prince George
Prince George County Tax Assessor
Darlene Rowsey
804-722-8740
804-863-0529
PO Box 155
Prince George, VA 23875


Prince William
Prince William County Tax Assessor
Allison Linder
703-792-6700
703-792-4673
4379 Ridgewood Center Dr
Prince William, VA 22192


Pulaski
Pulaski County Tax Assessor
Trina Rupe
540-980-7750
540-980-7758
52 W. Main Street # 200
Pulaski, VA 24301


Alphabetical listing of Virginia County Tax Assessors
A | B | C | D | E | F | G | H | I | J | L | M | N | O | P | R | S | T | W | Y

Search Virginia Tax Assessors by Map: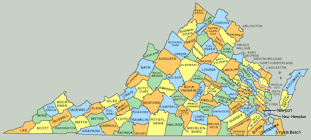 Please use this site to search these Virginia counties for parcel data, tax digest data & GIS maps:
Alexandria, Accomack, Albermarle, Alleghany, Amelia, Amherst, Appomattox, Arlington, Augusta, Bath, Bedford, Bland, Botetourt, Brunswick, Buchanan, Buckingham, Campbell, Caroline, Carroll, Charles City, Charlotte, Chesterfield, Clarke, Craig, Culpeper, Cumberland, Dickenson, Dinwiddie, Essex, Fairfax, Fauquier, Floyd, Fluvanna, Franklin, Frederick, Giles, Gloucester, Goochland, Grayson, Greene, Greensville, Halifax, Hanover, Henrico, Henry, Highland, Isle of Wight, James City, King and Queen, King William, Lancaster, Lee, Loudoun, Lousia, Lunenburg, Madison, Mathews, Mecklenburg, Middlesex, Montgomery, Nelson, New Kent, Northampton, Northumberland, Nottoway, Orange, Page, Patrick, Pittsylvania, Powhatan, Prince Edward, Prince George, Prince William, Pulaski, Rappahannock, Richmond, Roanoke, Rockbridge, Rockingham, Russell, Scott, Shenandoah, Smyth, Southampton, Spotsylvania, Stafford, Surry, Sussex, Tazewell, Warren, Washington, Westmoreland, Wise, Wythe, York counties.