Welcome to Virginia Assessors! Virginia Assessors is your doorway to all Virginia County websites for on-line parcel & GIS Data. Search parcel data, tax digest & GIS maps by Owners Name, Location Address, Parcel Number, Legal Description, or Account Number. You may also search by Map, Sales List or perform complicated Sales Searches to research data for sales comparables. Most websites also include information on the appraisal & assessment process, downloadable tax related forms, tax exemptions, tax appeals, etc. You may also find local county information such as contact information for the Chief Appraiser, the Board of Assessors, Board of Commissioners, County Manager, County Administrator, etc.

A | B | C | D | E | F | G | H | I | J | L | M | N | O | P | R | S | T | W | Y

Virginia County Tax Assessor websites
Counties beginning with C:



Campbell
Campbell County Tax Assessor
434-332-9568
PO Box 66
Rustburg, VA 24588


Caroline
Caroline County Tax Assessor
Sharon Carter
804-537-6129
7497 County Complex Rd
Hanover, VA 23069


Carroll
Carroll County Tax Assessor
Jane Harrisoon
276-730-3030
605-17 Pine St
Hillsville, VA 24343


Charles
Charles City County Tax Assessor
Denise Smith
804-652-2161
10780 Courthouse Road
PO Box 7
Charles City, VA 23030


Charlotte
Charlotte County Tax Assessor
Naisha Pridgen
434-542-5546
PO Box 308
Charlotte Court House, VA 23923


Chesterfield
Chesterfield County Tax Assessor
804-748-1321
804-717-6278
PO Box 40
Chesterfield, VA 23832


Clarke
Clarke County Tax Assessor
Warren Arthur
540-955-5108
540-955-5179
PO Box 67
Berryville, VA 22611


Craig
Craig County Tax Assessor
Elizabeth Huffman
540-864-6241


Culpeper
Culpeper County Tax Assessor
Terry Yowell
540-727-3443
540-727-3472
151 N. Main St
Culpeper, VA 22701


Cumberland
Cumberland County Tax Assessor
Anita French
804-492-4280
804-492-3342
1 Courthouse Circle
PO Box 77
Cumberland, VA 23040


Alphabetical listing of Virginia County Tax Assessors
A | B | C | D | E | F | G | H | I | J | L | M | N | O | P | R | S | T | W | Y

Search Virginia Tax Assessors by Map: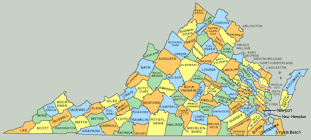 Please use this site to search these Virginia counties for parcel data, tax digest data & GIS maps:
Alexandria, Accomack, Albermarle, Alleghany, Amelia, Amherst, Appomattox, Arlington, Augusta, Bath, Bedford, Bland, Botetourt, Brunswick, Buchanan, Buckingham, Campbell, Caroline, Carroll, Charles City, Charlotte, Chesterfield, Clarke, Craig, Culpeper, Cumberland, Dickenson, Dinwiddie, Essex, Fairfax, Fauquier, Floyd, Fluvanna, Franklin, Frederick, Giles, Gloucester, Goochland, Grayson, Greene, Greensville, Halifax, Hanover, Henrico, Henry, Highland, Isle of Wight, James City, King and Queen, King William, Lancaster, Lee, Loudoun, Lousia, Lunenburg, Madison, Mathews, Mecklenburg, Middlesex, Montgomery, Nelson, New Kent, Northampton, Northumberland, Nottoway, Orange, Page, Patrick, Pittsylvania, Powhatan, Prince Edward, Prince George, Prince William, Pulaski, Rappahannock, Richmond, Roanoke, Rockbridge, Rockingham, Russell, Scott, Shenandoah, Smyth, Southampton, Spotsylvania, Stafford, Surry, Sussex, Tazewell, Warren, Washington, Westmoreland, Wise, Wythe, York counties.