Welcome to the Cook County Assessors Office Web Site!
Returned Mail Notice
The Cook County Board of Assessors mailed assessment notices on June 11, 2019. The last day to appeal is July 25, 2019. If you do not file an appeal by that date, your right to appeal has been lost.
Cook County Board of Tax Assessors
Cook County Tax Assessors Office
Larry Arnold
Chief Appraiser
209 N PARRISH AVE
Adel, GA 31620
Phone: 229-896-3665
Fax: 229-896-3977
lwarnold@windstream.net


Our office is open to the public from 8:30 AM until 4:30 PM, Monday through Friday.
The goal of the Cook County Assessors Office is to provide the people of Cook County with a web site that is easy to use. You can search our site for a wealth of information on any property in Cook County.
The information contained herein reflects the values established in the "most current published" tax digest. *Please note that the Assessors Office establishes values only. The Cook County Tax Commissioner should be contacted with tax bill related questions.
Notice to Taxpayers

In compliance with Georgia Law 48-5-264.1 requiring reasonable notice in advance of the appraisal staff visiting property while conducting official business, this notice serves to inform the property owner that obtaining a building permit and/or the filing of an appeal will require the appraisal staff to visit the property to verify property information. Prior to the property review by the Board of Assessors, members of the county appraisal staff will conduct an on-site review of the property.
All members of the appraisal staff visiting your property will display Cook County identification with a photo, and will drive marked county vehicles.
Thank you for your understanding and cooperation.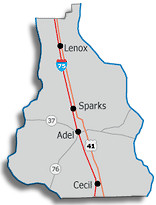 Did you know?
Cook County was the 153rd county formed in Georgia. It was created from Berrien County and named for General Philip Cook, who fought in both the Seminole War and the Civil War and was Georgia's Secretary of State for over 20 years.

The county courthouse was constructed in 1939, one of many depression era public works projects in the state. This courthouse is also listed on the National Register of Historic Buildings.

Another historic building, located in Adel, is the Jim Paulk-SOWEGA Building, owned by the Adel-Cook County Chamber of Commerce. The building was constructed in 1930 and originally the home office of Southwest Georgia Melon Growers Association (SOWEGA), which started in 1920 as the only cooperative association for marketing watermelons in the world.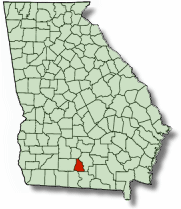 One of the first roads cut through the Wiregrass Territory ran through Cook County at Cecil. This road, known as the Coffee Road, was called for by an act of the state legislature in 1823 and was built by General John Coffee. The Coffee Road became a main thoroughfare for early settlers, who traveled to Tallahassee and the Gulf Coast for salt and other staples.

Reed Bingham State Park is located in the county. The park has a variety of recreational facilities centering around a 400-acre lake, where swimming, skiing, boating, and fishing are excellent. Other facilities include campsites, nature trails, miniature golf, and picnic shelters.

Some of Cook County's festivals include the Brushy Creek Muzzleloaders Spring Shoot and Rendezvous in March, the Annual Turnip Trot in November, and the Lean-Ox Festival, also in November.
Source: georgia.gov