Welcome to the Terrell County Assessors Office Web Site!
Terrell County Tax Assessors Office
Darlene Paul
Chief Appraiser
Phone: 229-995-5210
Fax: 229-995-3096
E-Mail
Contact Info.

Our office is open to the public from 8:00 AM until Noon & 1:00 until 5:00 PM, Monday through Friday.
The goal of the Terrell County Assessors Office is to provide the people of Terrell County with a web site that is easy to use. You can search our site for a wealth of information on any property in Terrell County.
The information contained herein reflects the values established in the "most current published" tax digest. *Please note that the Assessors Office establishes values only. The Terrell County Tax Commissioner should be contacted with tax bill related questions.
TERRELL COUNTY BOARD OF ASSESSORS
NOTIFICATION
Notice to the Terrell County Property Owners and Occupants. In accordance with Georgia law, please be advised that the Terrell County Appraisal Staff may be visiting your property to review your parcel information concerning an appeal filed, return filed, construction of new improvement or addition, review of parcel, and/or conservation use application. If you have any further questions, please call our office at (229) 995-5210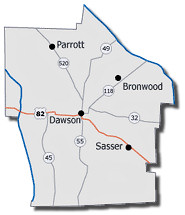 Did you know?
Otis Ray Redding, Jr., best known for his passionate delivery and posthumous hit single, "(Sittin' On) the Dock of the Bay" was born in Dawson, Georgia.

Terrell County was carved from portions of Randolph and Lee counties in 1856. Georgia's 113th county was named for Dr. William Terrell of Sparta, who had served in both the state legislature and Congress.

The county seat of Terrell County is Dawson which is a famous Spanish peanut market. Incorporated on December 22, 1857, it was named for William C. Dawson (1798-1857). He was a Georgia-born lawyer and soldier, who was elected to the United States Senate for one term beginning in 1849.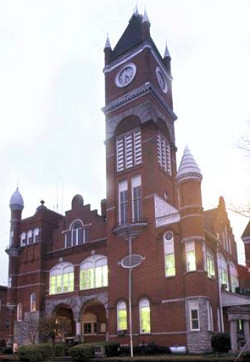 Shortly after Atlanta's capture in the Civil War, Governor Joseph E. Brown arranged for a refugee camp at Dawson to shelter some 300 women and children who had fled the city. The "Exile Camp" was later used to house a detachment of 50 Union soldiers assigned to keep order in the area. Their kind behavior toward local citizens was long noted by the community.

The Battle of Echouanotchaway Swamp was fought here in 1836. This battle was part of the Creek Indian uprisings after the burning of Richmond.

Once virtually a ghost town, historic Parrott has been reborn. This historic downtown offers many unique showing experiences. Parrott, a picturesque little town has been used for several western movies including "The Long Riders".

There are two sites listed on the National Register of Historic Places. These are the Terrell County Courthouse and the Garden Club House.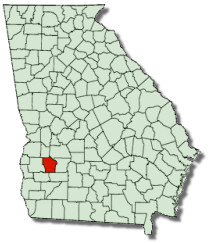 Another interesting building is the Chickasawhatchee Primitive Baptist Church which was built in 1858. It is the oldest church still standing on its original site in Terrell County.

The annual tour of historic homes, sponsored by the Dawson Restoration Society, is held the first Saturday in May featuring Victorian architecture at its best.

Dawson is in the process of renovating the downtown historic district. A tour of homes, held every May allows visitors to see the inside of some of the city's antebellum and Victorian style homes.
Source: georgia.gov