Welcome to the Taliaferro County Assessors Office Web Site!
---
NOTIFICATION
In accordance with Georgia law, the Taliaferro County Board of Assessors must notify property owners prior to making a site visit. Notice is hereby given that a representative of the appraisal staff will review and inspect properties for the current digest year. The appraisal reviews may include measuring structures, listing construction information, and photographing the subject property.

Reasonable notice is also given that an onsite inspection may be required for real or personal property being returned or appealed. Property visits will be for the purpose of determining the correctness of the information contained in the county's appraisal record for the property.

County appraisers will be in a marked "Board of Assessors" vehicle and have photo identification.

Please contact the Board of Assessors office @ (706) 456 2717 for more information concerning this notice.
---
Taliaferro County Tax Assessors Office
Phone - 706.456.2717
Fax - 706.456.2904
Email tcta@nu-z.net
Board of Tax Assessors
John Allen
Chairman
Bobbi Taylor-Moore
Alan Hornaday
Chief Appraiser
Board of Commisioners
Charles Ware Chairman
Jane Hubert
Evelyn Kendrick

Our office is open to the public from 9:00 AM until 5:00 PM, Tuesday and Thursday.

The goal of the Taliaferro County Assessors Office is to provide the people of Taliaferro County with a web site that is easy to use. You can search our site for a wealth of information on any property in Taliaferro County.

The information contained herein reflects the values established in the "most current published" tax digest. *Please note that the Assessors Office establishes values only. The Taliaferro County Tax Commissioner should be contacted with tax bill related questions.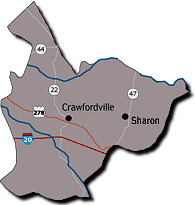 Did you know?

Taliaferro County, the 65th county formed in Georgia, was created in 1825. Originally part of Hancock, Greene, Oglethorpe, Wilkes and Warren counties, Taliaferro County was named for Revolutionary War hero and U.S. Congressman Benjamin Taliaferro. The county's name is pronounced as if it were "oliver" preceded by a "t."

Many movies have been filmed in the county, including "Coward of the County" with Kenny Rogers and "Passion For Justice" with Jane Seymour, more recently "Sweet Home Alabama" with Reece Witherspoon and Candace Bergen.

Taliaferro County is one of the smallest populated counties with less than 2000 inhabitants, providing the residents with a serene lifestyle.

The County was the home of A.H. Stevens, Vice President of the Confederacy, Governor of Georgia - His home and museum is located at A.H. Stevens state park. A full facility park including cottages and group camping.