Welcome to the Mitchell County Assessors Office Web Site!
Mitchell County Tax Assessors Office
Kenneth Cox
P O Box 6
Camilla, GA 31730
Chief Appraiser
Phone: 229-336-2005
Fax: 229-336-2004
taxassessor@camillaga.net

Our office is open to the public from 8:00 AM until 5:00 PM, Monday through Friday.
The goal of the Mitchell County Assessors Office is to provide the people of Mitchell County with a web site that is easy to use. You can search our site for a wealth of information on any property in Mitchell County.
The information contained herein reflects the values established in the "most current published" tax digest. *Please note that the Assessors Office establishes values only. The Mitchell County Tax Commissioner should be contacted with tax bill related questions.
Did you know?
Mitchell County was created from Baker County in 1857. The Act creating the county noted that it was named after General Henry Mitchell. He had been a state senator from Warren County, president of the Senate, a presidential elector, and commander of the Georgia troops after the Revolutionary War. The widely held view among historians, however, was that the county was named for General David B. Mitchell, who was twice governor of Georgia.

Camilla, the county seat, is named for General David Mitchell's daughter. Pelham was named for Major John Pelham, the "boy artillerist" who was mortally wounded at the Battle of Kelly's Ford in 1863.

Sites listed on the National Register of Historic Places include the downtown districts of Camilla & Pelham, the residential historic district in Baconton, the Bacon Family Homestead and the George W. Jackson House in Baconton, the James Price McRee House in Camilla (McRee Hall), Mount Enon Church and Cemetery, and the Pelham Commercial Historic District.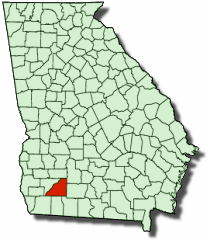 The western border of the county is defined by the Flint River.

Landmark buildings in the county include the Hand Trading Company Building in Palham (1916).

Some of the county's special events are the Pelham Wildlife Festival, held on the first Saturday of October in downtown Pelham. Also, the Pelham Country Jamboree is held every Saturday across from the Depot Platform.

The annual Gnat Festival in downtown Camilla is another popular festival that features arts, crafts, music, bike races, train rides, 5K run, street dance and pet shows.
Source: georgia.gov