Welcome to the Lamar County Assessors Office Web Site
---
---
This information contained herein reflect the values for the 2021 digest. Any ownership change or acreage change since Jan 1, 2021, might not be updated yet. In this office we base everything on the 1st of Jan of each year. This information contained herein is based on Jan 1, 2021. If you have any questions about a new owner or acreage change, please feel free to contact the office.
---
---
Notice to Property Owners and Occupants concerning visits to your Property.

Georgia Law (OCGA § 48-5-264.1) requires property owners and occupants be provided reasonable notice prior to a site visit conducted by or on behalf of the Lamar County Board of Assessors In accordance with this law, please be advised that the Lamar County Appraisal Staff will be visiting properties in the County for the next 2 years. The purpose of this visit will be to verify correctness of the improvements in our records. The appraiser will only gather necessary property information and take photographs.

The appraiser will have a photo identification badge and will be driving an appropriately marked vehicle. If the appraiser is not allowed access to your property, estimations will be performed. If there is any question about the identity of the appraiser, or if there are any questions regarding the visit, do not hesitate to contact the Lamar County Assessor's Office at 770-358-5161.
Notice about 2021 Assessment Notices
2020 Returned Assessment Notices
The information contained herein reflects the values as approved by the Lamar County Board of Assessors for mailing the 2020 annual assessment notices.
Please note that the Assessors' Office establishes values only. The Lamar County Tax Commissioner should be contacted with tax bill related questions.
The Tax Assessors Office is located at 408 Thomaston St, Suite C. Barnesville GA. Our Office is responsible for the valuation of all real and personal property in the county. this includes new construction, additions to property, new businesses, boats, etc. This office compiles the Tax Digest of all Real and Personal Property in Lamar County. Our mission is to provide a fair, uniform & accurate assessment as mandated by state law.
Board of Assessors
Betty Smith Banks, Chairperson
Tammy Cannon, Vice Chairperson
Brad Bryan, Member
John Robinson, Member
Andy Bush, Member


Office Staff
Holly Patel, Personal Property & Mobile Homes
Brock Lanier, Appraiser I - Field appraiser
Tanya Bradford, Appraiser I - Office Manager



Contact Information:
Assessor's Office
Jeannie Haddock - Chief Appraiser
408 Thomaston St
Suite C
Barnesville, GA. 30204
(770)358-5161
(770)358-5438 Fax
lamartax@yahoo.com
Office Hours: Monday Thru Friday 8-5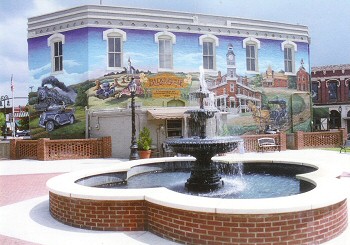 In front of the Train Depot
.
The Jackson G Smith firm manufactured 11,000 buggies a year during its existence, and at least three other companies besides Smith's produced buggies here between 1865 and 1910. Their craftsmanship became world famous-hence, the "Buggy Capital of the World" centered here in Barnesville. It is a proud tradition that we still celebrate every year. For more information about the Barnesville Buggy Days, contact the Chamber of Commerce at (770)358-2732.