Welcome to the Fannin County Assessors Office Web Site!
Fannin County Tax Assessors Office
Dawn Cochran
Chief Appraiser
400 West Main Street, Suite 102
Blue Ridge, GA 30513
Phone: 706-632-5954
Fax: 706-632-8753
E-Mail

Our office is open to the public from 8:00 AM until 5:00 PM, Monday through Friday.
The goal of the Fannin County Assessors Office is to provide the people of Fannin County with a web site that is easy to use. You can search our site for a wealth of information on any property in Fannin County.
The information contained herein reflects the values established in the "most current published" tax digest. *Please note that the Assessors Office establishes values only. The Fannin County Tax Commissioner should be contacted with tax bill related questions.
Did you know?
Fannin County was created in 1854 from parts of Gilmer and Union counties. Georgia's 106th county was named for Colonel James W. Fannin of Georgia, who, with approximately 350 volunteers, fought in Texas' War of Independence from Mexico. Fannin and his regiment were captured and massacred in 1836. Fannin's county seat, Blue Ridge, is named for the southern reach of the Appalachian Mountain Range which stretches into the county.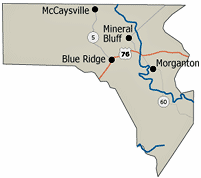 The last remnants of the Cherokee Nation found shelter in the mountains of Fannin County before their removal west along the "Trail of Tears" to Oklahoma in 1838.

The U.S. Fish and Wildlife Service operates a cold water fish hatchery in Fannin County. The Chattahoochee Forest National Fish Hatchery raises rainbow trout to stock streams, lakes, and reservoirs throughout North Georgia.

Parts of the Chattahoochee National Forest and Cohutta National Wilderness Area are in Fannin County. The Cohutta Wilderness Area is the largest national wilderness area east of the Mississippi River.

Outdoor recreational opportunities are also plentiful within Fannin County. Campers, hikers, nature lovers, and anglers enjoy the Chattahoochee National Forest and Cohutta Wilderness Area. In addition to these federal facilities, local parks include the Horseshoe Bend Park, the Blue Ridge City Park, and the McCaysville City Park.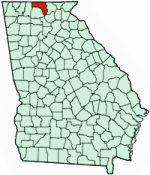 Water resources are plentiful in Fannin County. Blue Ridge Lake in the center of the county impounds part of the Toccoa River, which flows into Tennessee and becomes the Ocoee River, site of the 1996 Olympic whitewater events. Jacks River, Fightingtown Creek, and Rock Creek also flow through the county. The Blue Ridge Railway is a vintage passenger train running a 26-mile roundtrip along the Toccoa River.

Fannin County residents and visitors enjoy several annual events. Held each Memorial Day weekend, the Arts in the Park Festival in Blue Ridge attracts over 20,000 people. Several local churches in Blue Ridge host an interdenominational Labor Day Barbecue each year at the town's historic railroad depot.

A Mountain Harvest Sale featuring handmade quilts, baskets, and pottery is held on the third and fourth weekends of October at the Blue Ridge State Farmer's Market. Proceeds from booth fees go to local charities.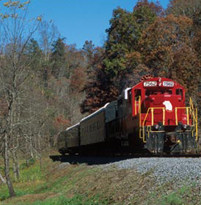 Blue Ridge, incorporated on October 24, 1887, is the county seat of Fannin County. The city is named for the southern reach of the Appalachian Mountain Range that stretches into Fannin County. A number of events are held in Blue Ridge, including the Arts in the Park Festival, a Labor Day Barbecue and a Mountain Harvest Sale at the Blue Ridge State Farmer's Market.

Blue Ridge is the starting point of the excursion train, Blue Ridge Scenic Railway, at the Historic Train Depot and Red Caboose Visitors Center. More than 17,000 people visit Blue Ridge to ride the train and shop in all the antique and specialty stores.

Blue Ridge participates in the Better Hometown Program run by the Georgia Department of Community Affairs. This community development program is a public-private partnership intended to revitalize small communities with populations between 1,000 and 5,000. These cities have access to technical assistance and fiscal resources designed to stimulate downtown revitalization.

According to 2000 Census, the City of Blue Ridge had a population of 1,210 persons. Between 1990 and 2000, the city experienced a population decrease of -9.4%, compared to the state growth during this period of 26.4%
Source: georgia.gov