Welcome to the Clinch County Assessors Office Web Site
Notice to Taxpayers

The Official Code of Georgia Title 48-5-264.1 requires advance notice to property owners when members of the appraisal staff visit property on official business. This is to inform our taxpayers that we will be out in the county and city reviewing mobile homes, building permits and tax returns periodically.

All appraisers will be driving a marked vehicle and will have a Clinch County photo identification on him/her.

Thank you for your understanding and co-operation.
Our Assessment notices has been mailed out June 2, 2021 and
the deadline for appealing is July 17, 2021.
Clinch County Tax Assessors Office
---
Chairman:
Adam Tolle
Vice Chairman:
JoAnn Lacey
Assessor:
Abigail Smith
---
Pam Nelson
Chief Appraiser
---
25 Court Square
Suite D
Homerville, GA 31634
Phone: 912-487-2561
Fax: 912-487-3083
ccba@windstream.net
Our office is open to the public from 8:00 AM until 5:00 PM, Monday through Friday.
The goal of the Clinch County Assessors Office is to provide the people of Clinch County with a web site that is easy to use. You can search our site for a wealth of information on any property in Clinch County.
The information contained herein reflects the values established in the "most current published" tax digest. *Please note that the Assessors Office establishes values only. The Clinch County Tax Commissioner should be contacted with tax bill related questions.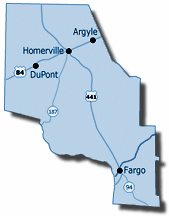 Did you know?
Clinch County, the 94th county formed in Georgia, was created from portions of Ware and Lowndes counties in 1850. The county was named for General Duncan Clinch, who served in the War of 1812, defeated the Seminole Indian Chief Osceola in Florida, and later served in the U.S. Congress.

Part of the Okefenokee Wildlife Refuge lies in Clinch County. Both the St. Mary's and Suwannee Rivers rise within the swamp. World famous Stephen C. Foster State Park is located in Fargo. The park's boat tours are a twisting and turning adventure through the Okefenokee Swamp.

Homerville, incorporated February 15, 1869, is the county seat of Clinch County.


The largest festival in Clinch County is the Timberland Jubilee, held in Homerville in March to honor the contributions of the timber industry to the local economy. Events include a Timberland Run, an arts and crafts show, and other entertainment.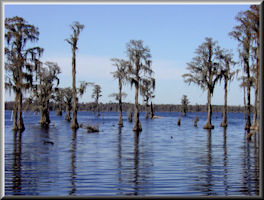 Homerville participates in the Better Hometown Program run by the Georgia Department of Community Affairs. This community development program is a public-private partnership intended to revitalize small communities with populations between 1,000 and 5,000. These cities have access to technical assistance and fiscal resources designed to stimulate downtown revitalization.

According to 2000 Census, the City of Homerville had a population of 2,803 persons. Between 1990 and 2000, the city experienced a population increase of 9.5%, compared to the state growth during this period of 26.4%.
Source: georgia.gov