All applications must be sent to the Board of Assessor's office no later than April 1. For more information, please call the Assessor's Office at 706-554-2607.
---
---
Welcome to the Burke County Assessors Office Web Site!
Contact Information:
Burke County Tax Assessors Office
Chief Appraiser
Phillip Wren
Phone: 706-554-2607
Contact Information

Our office is open to the public from 8:00 AM until
5:00PM, Monday through Friday.
The goal of the Burke County Assessors Office is to provide the people of Burke County with a web site that is easy to use. You can search our site for a wealth of information on any property in Burke County.
The information contained herein reflects the values established in the "most current published" tax digest. *Please note that the Assessors Office establishes values only. The Burke County Tax Commissioner should be contacted with tax bill related questions.
Burke County Points of Interest
Burke County (pop: 22,745) was one of Georgia's original eight counties. Initially organized as the Parish of St. George, Burke County was named for the English political writer, member of British Parliament and supporter of the colonies' interests, Edmund Burke. Lyman Hall, a Georgia signer of the Declaration of Independence and member of the Continental Congress once owned a plantation in the county.
The county seat of Waynesboro (pop: 5,701) was named for famed Revolutionary War General "Mad Anthony" Wayne. Waynesboro has long been referred to as the "Bird Dog Capital of the World" due to its hosting of some of the country's largest and longest-running pointing dog field trial competitions being held in the area since 1903.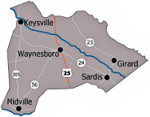 Georgia Power Company's Vogtle Electric Generating Plant is a nuclear power plant located along the Savannah River on the north-eastern border of the county. Units 1 and 2 began operation in the late 1980's and the expansion of the plant, with Units 3 and 4 began around 2010.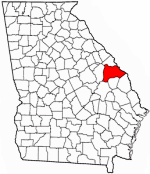 Along with the annual Georgia Field Trials beginning in January, Burke County is home to numerous festivals and special events. The Boss Hog State Barbeque Cookoff is held each May, the Burke Farm Fest each September, the Burke County Fair each October at the Exchange Club Fairgrounds and Christmas on Liberty Square in downtown Waynesboro in early December.