---
---
2022 Notice of Assessments have been sent.
You may file your appeal online by clicking on the Search Page HERE
The last day to appeal is Aug. 15, 2022
You can contact us and submit any applications by E-Mail
.
Thank you,
Wade C. Williams.
---
---
Welcome to the Baldwin County Assessors Office Web Site
Contact Information:
Baldwin County Assessors Office

Wade C. Williams
Chief Appraiser
1601 N Columbia St.
Suite 120
Milledgeville, GA 31061
Phone: (478) 445-5300
Fax: (478)445-5019
E-Mail

*For questions about business personal property, boats, or airplanes please contact:
Amanda Panther
Asst Chief Appraiser
and
Personal Property Manager

(478) 445-5300
E-Mail

Our office is open to the public from 8:30 AM until 5:00 PM, Monday through Friday.
The goal of the Baldwin County Assessors Office is to provide the people of Baldwin County with a web site that is easy to use. You can search our site for a wealth of information on any property in Baldwin County.
To report any changes on your property, search for your property using the Search Records. Once the property report opens, please click on the

at the top right of your report page. After clicking on the

please complete the form and click on submit.
The information contained herein reflects the values established in the "most current published" tax digest. *Please note that the Assessors Office establishes values only. The Baldwin County Tax Commissioner should be contacted with tax bill related questions.
Board of Assessors:
District 1
Open for Appointment
District 2
Ronald Stevenson - Chairman
District 3
Patricia Baugh Thompson
District 4
Tom Torrance
District 5
Harry Keim - Vice Chairman




SERVICES PROVIDED:
• Records for real and personal property
(Boat, business and aircraft returns)
• Aerial photography of real property
• Deed book and plat references for
real property
• Homestead exemptions applications
can be made year round
• Property tax returns. Service is
performed from January 1
thru April 1
• Valuation appeals


Did you know: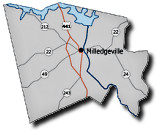 Georgia's 27th county was named for Abraham Baldwin, a member of the Continental Congress and author of the bill to create the nation's first state university, now the University of Georgia.

Milledgeville was laid out in 1803, designated as the state capital in 1804, and incorporated in 1806. The city served as state capital until that honor was transferred to Atlanta on April 20, 1868. Milledgeville, named for Governor John Milledge, is the county's only incorporated city.

The historic district of Milledgeville includes the Old State Capitol and Governor's Mansion, as well as a number of noteworthy private homes. According to the National Trust for Historic Preservation, Milledgeville is the only surviving example of a complete "Federal Period" city. It is also the only city designed specifically to be a state capital.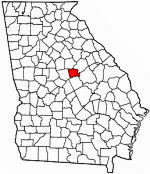 With 15,330 acres of water and 417 miles of shoreline, Lake Sinclair is an important recreational resource for the county. The State of Georgia has a strong presence in the county with the Middle Georgia Correctional Institution, Central State Hospital, the Youth Development Center, and two University System units.

Notable Georgians from Baldwin County include the Honorable Carl Vinson, who served Georgia as a U.S. Congressman for 50 years; writer Flannery O'Connor; and comedian Oliver Hardy. Georgia College's Ina Dillard Russell Library is home of the Flannery O'Connor Collection and includes manuscripts by O'Connor and her personal collection of more than 700 books and journals.

Baldwin County is home to a number of festivals and events including water skiing tournaments in July and the Candlelight Tour of Homes in December.
(Source: georgia.gov)

In accordance with Georgia law, the Baldwin County Board of Assessors must notify property owners prior to making a site visit. Notice is hereby given that a representative of the appraisal staff will review and inspect properties which are the subject of an active building permit for changes and improvements which have been made to the property. These appraisal reviews will include measuring structures, listing construction information, and photographing the subject property.
Reasonable notice also is hereby provided that an onsite inspection may be required for real or personal property being returned or appealed or recently sold and for periodic parcel reviews. Said property visit will be for the purpose of determining the correctness of the information contained in the county's appraisal record for the property. For more information, please contact the Assessors office at 478-445-5300. \n\nPlease refer to the following approximate time periods to see when site visits and reviews will occur in your area: Site visits and reviews of residential/commercial building permits for additions, renovations, new improvements, and changes: May 1, 2021 thru December 31, 2021
Site visits and reviews of end of year construction in progress and 299(c) properties, all of Baldwin County: October 1, 2020 through April 30, 2021\n\n\nSite visits and reviews of property returns/appeals, recent sales, personal property, and manufactured homes, all of Baldwin County: May 1, 2021 thru December 31, 2021