Staff

Debra L. Johnson - debraL.johnson@ky.gov

• Deputy PVA since 1991

• Became a Senior Kentucky Assessor in 2012
• Received 2012 Deputy of the Year Award

• Married to Robert Johnson
• 2 kids - Amy & Shawn

• 1 granddaughter - Gabriella "Gabby" born in 2015

• Graduate of Lewis Co. High School
• Associate Degree from Morehead State University

• MSU Alumni
• Member of IAAO
• Member of Youth Advisory Council Committee
• Became a "Certified Kentucky Assessor" in 2010

• Attends Crosspointe Church in Maysville, KY
• Enjoys sports and spending time with family & friends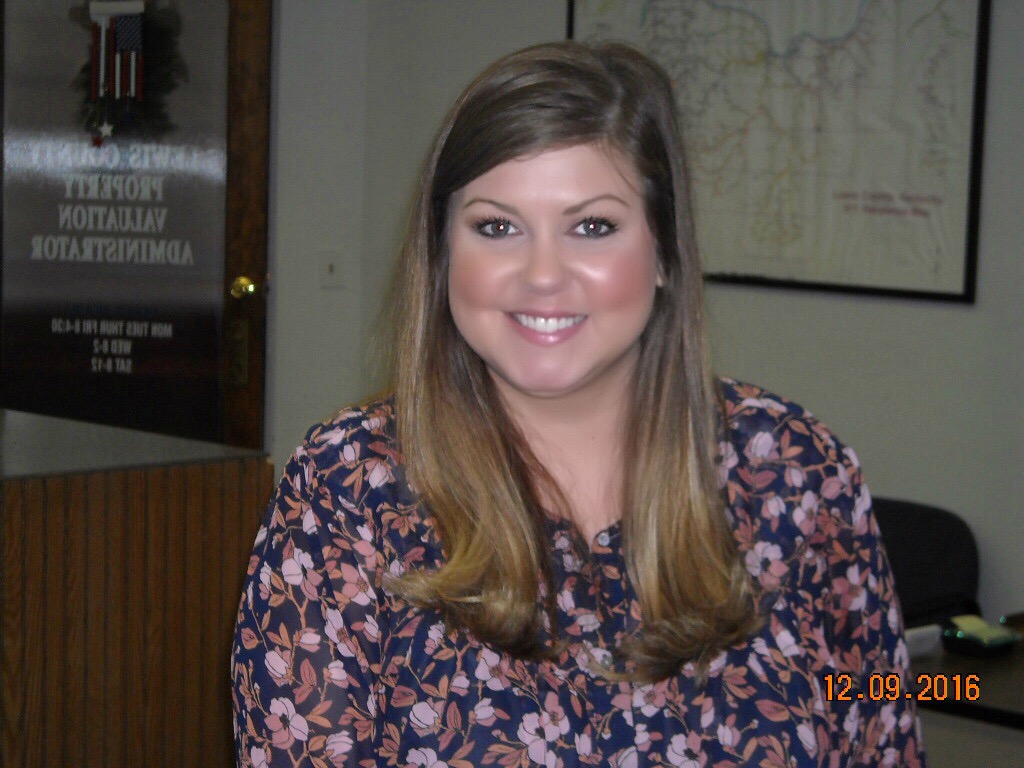 Sarah Plummer Roser - sarahplummer.roser@ky.gov

• Married to Blake Roser.
• A son Ellis was born in 2016.
• Daughter of George and Sharon Plummer.
• Sibling: Andy Plummer

• 2002 Graduate of Lewis County High School
• 2007 Graduate of Morehead State University

• Bachelors Degree in Communications with an emphasis in Public Relations and minor in Speech Communication.

• Previously lived and worked in Lexington, KY for 4 years in Customer Service and Property Management.

• Member of First Baptist Church of Vanceburg, KY.

• Enjoys spending time with family and friends. Loves animals, and DIY projects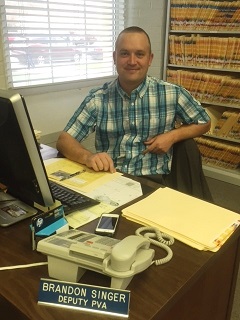 Brandon Singer - brandon.singer@ky.gov

• Married to Amanda (McDaniel) 2013
• A son Jack was born in 2015
• A daughter Kate born in November 2017
• Son of Steve and Joy Singer
• 2 Brothers, Dustin Singer (& Amanda) Isaac Singer

• 2002 Graduate of Lewis County High School
• Attended Morehead State University

• Previously lived in Indiana, Ohio, and Illinois
• Previously worked at Buffalo Trace Surveying & Construction
• Member of Mt. Carmel Christian Church
• Enjoys hunting, spending time with his wife & son



Eric Bloomfield - eric.bloomfield@ky.gov

On May 14, 2018 Gov. Matt Bevin appointed Eric Bloomfield, of Vanceburg, to fill the vacant position of Property Valuation Administrator (PVA) for Lewis County. Bloomfield is a Certified Public Accountant (CPA) who has worked in both the public and private sectors, including previous employment as an audit manager, corporate controller, and chief financial officer for FIVCO Area Development District.

A graduate of Lewis County High School and Eastern Kentucky University, Bloomfield has deep roots in northeastern Kentucky. He has interacted with several state and local agencies throughout his career, especially during his tenure with FIVCO, where he maintained financial ledgers for dozens of state and federal programs affecting the region.

Additionally, Bloomfield also pursued graduate studies at Morehead State University, where he attained a 4.0-grade point average in the field of accounting. He is a member of both the Kentucky Society of Certified Public Accountants and American Institute of Certified Public Accountants.

Bloomfield and his wife of 26 years, Andrea, have twin sons (Ethan and Evan) and a daughter (Grace). They own and operate a favorite local restaurant, Chigger's Dairy Bar. Bloomfield will serve until the position is filled by the Republican candidate, Kenneth Ruckel, of Vanceburg. Mr. Ruckel will take office as Lewis County PVA on December 4, 2018.