Welcome to the Pike County Assessors Office Web Site!
The assessment notices for Tax Digest year 2013 have been sent to our vendor for preparation. These notices will be mailed out in the next few weeks. They are not TAX BILLS. They are your values for the 2013 digest with an estimated tax value based on last year's millage rate of 29.326. Real property notices will be mailed to all property owners; excluding exempt properties and utility properties. Personal property notices will be mailed to all owners with any values above $7,500. If you do not receive your notice, please contact our office at (770)567-2002 to see if it was returned to us due to an insufficient address. If you applied for any of our exemptions, please verify they are on your notice. This is your time to appeal your values. If you wish to appeal, please bring with you any comparables, appraisals or pictures. We also ask that you give us your value of what your home, land, or personal property should be. The deadline for filing your appeal is June 26, 2013. You may appeal at our office location 73 Jackson St. Zebulon, Georgia no later than 5:00 p.m. June 26, 2013. You can also appeal by e-mail at cfoster_pikeco@bellsouth.net or fax number# (678)263-4543 no later than midnight June 26, 2013. If you would like to mail your appeal, please mail to P.O. Box 377 Zebulon, Georgia 30295 with a postmark no later than June 26, 2013.

Pike County Commissioner now taking online payments at https://pike.paytaxes.net/3.0/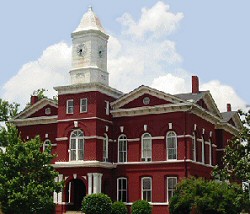 Contact Information:
Pike County Tax Assessors Office
Cindy Foster
Chief Appraiser
770-567-2002
FAX 678-263-4543
E-Mail

Located at:
73 Jackson Street
Zebulon GA 30295

Mailing Address:
PO Box 377
Zebulon, GA 30295

Staff:
Lisa Baker
Deputy Chief Appraiser

Melissa Connell
Personal Property
Open Record Clerk

Christy Cook
Appraiser I

Steven Yerkes
Part-Time Field Appraiser Assistant
Our office is open to the public from 8:00 AM until 5:00 PM, Monday through Friday. We are located in the courthouse annex building.
The goal of the Pike County Assessors Office is to provide the people of Pike County with a web site that is easy to use. You can search our site for a wealth of information on any property in Pike County.
The information contained herein reflects the values established in the "most current published" tax digest. *Please note that the Assessors Office establishes values only. The Pike County Tax Commissioner should be contacted with tax bill related questions.
Board of Assessors:
Robert Marriott - Chairman
Franklin O Goforth - Vice Chairperson
Glen Rawlins - Member
Christopher Tea - Member
April Asher - Member

Pike County was created from part of Monroe County in 1822. Georgia's 57th county and its county seat, Zebulon, were named for Zebulon Montgomery Pike. An expedition led by Pike in 1805 attempted (and failed) to trace the Mississippi River to its source. He discovered Pike's Peak on the same expedition.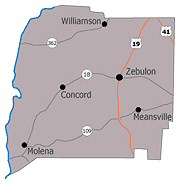 The Pike County Courthouse, built in 1895, is listed on the National Register of Historic Places.

Agriculture and forestry are still the main industries in Pike County, though the county is feeling the effects of Atlanta's growth.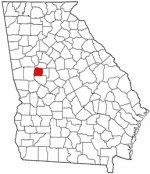 The county is one of Georgia's major peach producers.

Pike County has been the site for the filming of several motion pictures, including Murder In Coweta County, Cold Sassy Tree, and Tank.