Welcome to the Morgan County Assessors Office Web Site!
Morgan County Tax Assessors Office
Guy Rogers
Chief Appraiser
Phone: 706-342-0551
Fax: 706-343-6333
grogers@morgancountyga.gov
150 East Washington Street, Suite 130
Madison, GA 30650

Our office is open to the public from 8:00 AM until 5:00 PM, Monday through Friday.
The goal of the Morgan County Assessors Office is to provide the people of Morgan County with a web site that is easy to use. You can search our site for a wealth of information on any property in Morgan County.
The information contained herein reflects the values established in the "most current published" tax digest. *Please note that the Assessors Office establishes values only. The Morgan County Tax Commissioner should be contacted with tax bill related questions.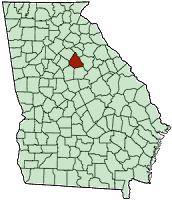 Did you know?
Morgan County was created in 1807 from a portion of Baldwin County. Georgia's 32nd county is named for Revolutionary War General Daniel Morgan who defeated the British at Cowpens.
The Madison Collegiate Institute was founded in 1849 by Baptists. It was later renamed the Georgia Female College. The Methodist Female College was also founded in Madison. These two schools were among the first women's colleges in the United States. Both were destroyed by fire and ceased operation.
Madison has some of the finest antebellum homes in the state.

Hard Labor Creek State Park, right outside of Rutledge, that offers swimming, hiking, fishing and equestrian facilities featuring over twenty miles of riding trails. The park also offers an 18-hole golf course, that is the most challenging and scenic in the state for both public and private courses.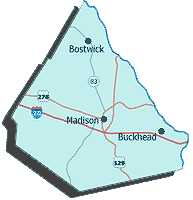 Morgan County African-American Museum is instrumental in preserving African-American heritage and promoting awareness of the contributions the African-American has made to the culture of the South.

Among the notable people who hail from Morgan County are William Tappan Thompson, a journalist and author who founded and edited Thr Savannah Morning News, and Lancelot Johnson, who first developed the process of pressing oil out of cottonseed.

Throughout the year there are a number of annual events taking place in the county including the Madison in May Tour of Homes, Madison Arts Festival and the City of Bostwick Annual Cotton Gin Festival.
Source: georgia.gov