Welcome to the Jeff Davis County Assessors Office Web Site!
Contact Information:
Jeff Davis County Tax Assessors Office
Kathy Yawn
Chief Appraiser
Phone: 912-375-6624
Fax: 912-206-2021
P O BOX 590
Hazlehurst, GA 31539
jdboa2@att.net

Board of Assessors:
David DeSousa - Chairman
Chester Yawn
Sheila Rucker

Our office is open to the public from 8:00 AM until 5:00 PM, Monday through Friday.
The goal of the Jeff Davis County Assessors Office is to provide the people of Jeff Davis County with a web site that is easy to use. You can search our site for a wealth of information on any property in Jeff Davis County.
The information contained herein reflects the values established in the "most current published" tax digest. *Please note that the Assessors Office establishes values only. The Jeff Davis County Tax Commissioner should be contacted with tax bill related questions.
Did you know?
Jeff Davis County was created in 1905 from parts of Appling and Coffee counties. Georgia's 140th county was named for Jefferson Davis, President of the Confederacy. Davis had served as the U.S. Secretary of War prior to the Civil War.

Hazlehurst was named for Colonel George Hazlehurst, a civil engineer who surveyed the Macon & Brunswick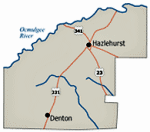 Railroad. In August of 1995, Hazlehurst celebrated its "Censilver," 150 years of existence.

The Altamaha River is formed from the merger of the Oconee and Ocmulgee rivers just northwest of Jeff Davis County. This is the largest free-flowing stream in Georgia and a haven for sports enthusiasts. Some of the largest largemouth bass in Georgia are found in these rivers. At least ten fishing tournaments are held in the county every year.

The tobacco crop was very important in the early history of Jeff Davis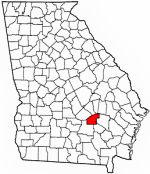 County, and the Hazlehurst Tobacco Market was one of Georgia's strongest.

Jeff Davis County shares the Bullard Creek Wildlife Management Area, totaling 16,000 acres, with Bacon County.

There are many festivals and special events in the county including the Pilot's Club Antique Car and Truck Show, the Annual Cotton Arts and Crafts Harvest Festival, Annual Christmas Parade and the 1890 Homestead Celebration.
Source: georgia.gov


Public Notice

In accordance with the official Code of Georgia annotated 45-5-264.1, the Jeff Davis County Board of Assessors must notify property owners prior to making a site visit. Notice is hereby given that a representative of the appraisal staff will review and inspect all properties that have changed ownership in the last twelve months, obtained a building permit for construction, made a return of value on the property, reported fire damage, demolition and or filed an appeal. These appraisal reviews may include measuring structures, listing construction information, and photographing the subject property.

A majority of these field reviews will take place between January 1 and May 1 of the current year during normal business hours.

If your property will be the subject of one or more of the aforementioned random reviews and you prefer to make an appointment for a specific date and time for review, please contact the Jeff Davis County Tax Assessors' office at 912-375-6624 between the hours of 8:00 a.m. and 5:00 p.m. or send an email to jdboa2@att.net.