NOTICE:

The Greene County Board of Assessors, in accordance with Ga. Law (House Bill 304), must give reasonable notice to property owners prior to making a site visit. Notice is hereby given that a representative of the appraisal staff will be listing new construction from active building permits for changes and improvements which have been made to the property.



Welcome to the Greene County Assessors Office Web Site!
Greene County Tax Assessors Office
J. Wayne Mitchell
Chief Appraiser
1034 Silver Drive
Suite 102
Greensboro, GA 30642
Phone: 706-453-3355
Fax: 706-453-7971
wmitchell@greenecountyga.gov

Our office is open to the public from 8:00 AM until 5:00 PM, Monday through Friday.
The goal of the Greene County Assessors Office is to provide the people of Greene County with a web site that is easy to use. You can search our site for a wealth of information on any property in Greene County.
The information contained herein reflects the values established in the "most current published" tax digest. *Please note that the Assessors Office establishes values only. The Greene County Tax Commissioner should be contacted with tax bill related questions.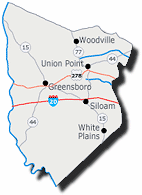 Did you know?
Greene County, the 11th county formed in Georgia, was created in 1786. Originally part of Washington County, Greene County was named for Revolutionary War hero General Nathaniel Greene.

Union Point is at the intersection of two separate railroad lines, and was originally called Scruggsville.

The oldest building in Greensboro is the Old Gaol built on Main Street in 1807.This fortress like structure has granite walls two feet thick and a trap door.

The second largest lake in Georgia is Lake Oconee located in Greene County. Wildlife is found in abundance in and around the lake.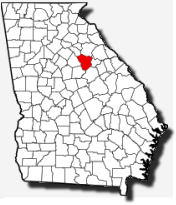 There is a house on Lick Skillet Road in Greensboro that is reputed to be haunted. At Ducaro Hall, built in 1837, footsteps can be heard late at night. At Early Hill, built in 1840, two ghosts appear. One is a man who sits in the rocking chair on the front porch; the other is a small girl who wanders upstairs and in the backyard.

The Greene County Courthouse, the Victorian Gothic Jackson House, and the Reynolds Plantation are points of historical interest for visitors.
Source: georgia.gov